Where Can Newgate School Take You?
---

Newgate School is all about transformation – both for the auto donations we receive and the incredible students we are able to teach. Each class of students is made of young men and women who are interested in mechanic training and want to make a change in their life. Some left high school before graduating and want to find a career. Others are learning English and auto skills simultaneously. Most find that the low student-teacher ratio and apprenticeship approach is where they really thrive.
Diverse, passionate, and goal-oriented, each Newgate class receives a year and a half of auto body training or auto mechanic training. Additionally, the faculty provides personalized instruction on the soft skills needed to create a successful career.
Today, Newgate graduates are auto body technicians and mechanics at shops like:
• Midas Roseville
• Fridley Auto Body
• Abra Auto Body
• Morrie's Bodyworks
• Latuff Brothers Auto Body
Additionally, many students end up in jobs such as:
• Painting large furnace/air conditioning systems across the country
• Building complex concrete pump engines
• Performing aviation mechanics at MSP
• Painting products for an international airline vehicle supplier
• Repairing and maintaining taxi radios and electronics
Our students' success speaks for itself. "I'd hire more Newgate grads in a minute," said one employer of our mechanic school's graduates.
If you or someone you know is interested in mechanic training or auto body classes, consider Newgate's two certification programs – Auto Body Technician and Auto Mechanics. "If you like figuring out how mechanical things work and enjoy a challenge, you will have a good career in auto mechanics," says Mike Scott, a Newgate instructor. "With over 4 million cars in Minnesota alone, there's sure to be a mechanic's job for you!"
Unlike other trade schools, Newgate is funded through local car donations and restorations, giving each student the ability to have a free education that consistently delivers strong job placements. Learn more or start your application by connecting with Transportation Manager Dennis Dunn at 612 378-0177.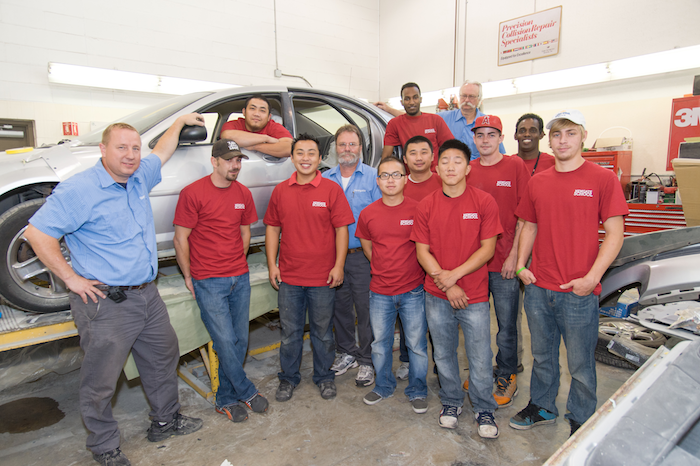 Read More
---
Wheels for Women Works
---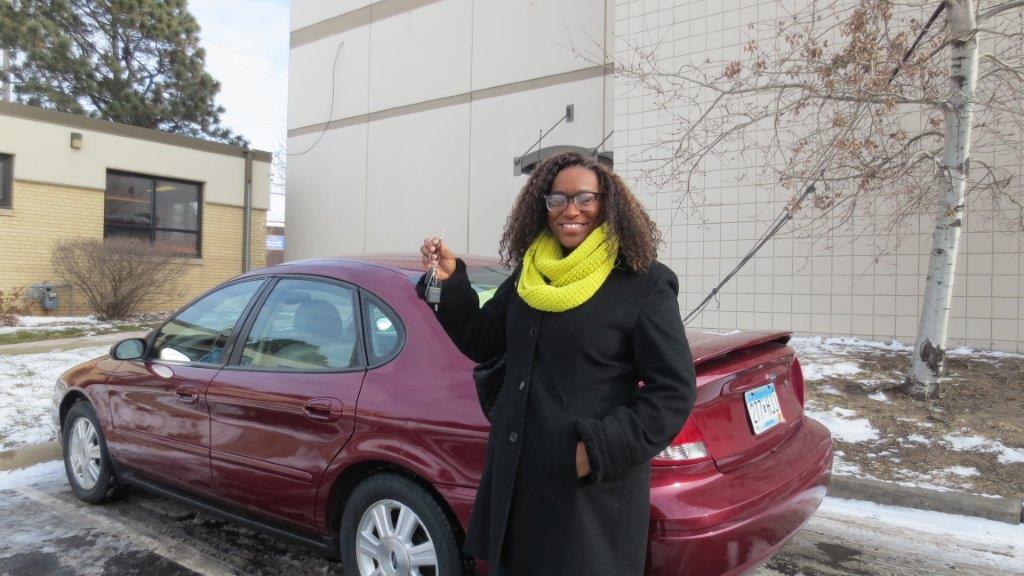 Meet Tyesha! She's the latest amazing single Mom to receive a vehicle through Newgate's Wheels for Women program. She heard about the program through the Jeremiah Program, which prepares determined single mothers to excel in the workforce, and decided to complete the on-line application. "My experience with the application process was efficient and convenient. I was able to apply online and heard back a little over a month via email! The representative provided the VIN number the same day and we arranged pick up within the week."
Newgate's Wheels program provides reliable transportation to single, working Moms who would otherwise not have a vehicle to maintain their jobs and get kids to school & daycare. Our students refurbish & repair eligible donated vehicles to get them ready for new ownership. "Our previous car was over 20 years old and our daily commute during the week is over an 1hr and 40 mins. round trip. With the winter coming it was imperative to have a reliable vehicle so my children and I could make it to school and work." Now she has the peace of mind a reliable vehicle brings for her family. "I am grateful for the generosity of those who donate to this program!"
Her overall experience with the program from the application process to picking up her new car was awesome. "Their was absolutely no cost to me and the process was really efficient. This vehicle will help our family accomplish our goals of maintaining employment, finishing school, and pursuing additional streams of income as we work towards homeownership! This was the perfect Christmas present!"
Read More
---
Meet Our Students!
---
Meet Benedicto, one of our newest students in the Auto Mechanics program at Newgate School. Benedicto has always known he wanted to work on cars for a living. As a boy he worked on cars with his Dad, and then went on to pick up additional skills from his uncle, who worked as an auto mechanic. To start earning a living though, he wanted more formal training to add advanced skills and knowledge; but like many kids his age, he couldn't afford the costly tuition of many technical schools.
That didn't stop him though and he started doing research online to find local options for training. That led him to Newgate and our tuition-free training programs. Once he came in and talked with our staff and instructors everyone knew he would be a great fit with the school! Waiting for an opening to become available was the hardest part and once his turn came around he dove right in to the hands-on training. At Newgate there are no textbooks and lectures. Everything is learned by actually working on the vehicles that need repair. That way students come out of the program with the experience and technical skills needed to be successful in their future careers.
Newgate's reputation as a school that produces hard working and technically sound employees is well known. The placement rate for our students is in the upper 90th percent! And that means the majority of our students can start earning a good living as soon as they graduate. But that's not even the best part of the program! According to Benedicto, "the best part about Newgate is the way I can pay it forward even as a student here. I learn how to fix the cars I'll be working on in the future, and those cars are brought to the auction to be sold for revenue that comes back to the school to help future students. I'm learning but also helping make sure that future students get the same chance that I'm getting right now".
We think it's pretty awesome, too! If you have a vehicle you'd like to donate to the school to help future students like Benedicto, please give us a call at 612-378-0177 and we'll be happy to give you the details. Plus, you'll receive the best tax deduction possible depending on the final use of the vehicle you provide. We'll assist you in capturing that value as well as with all the required paperwork. 10 minutes in our office is usually all it takes!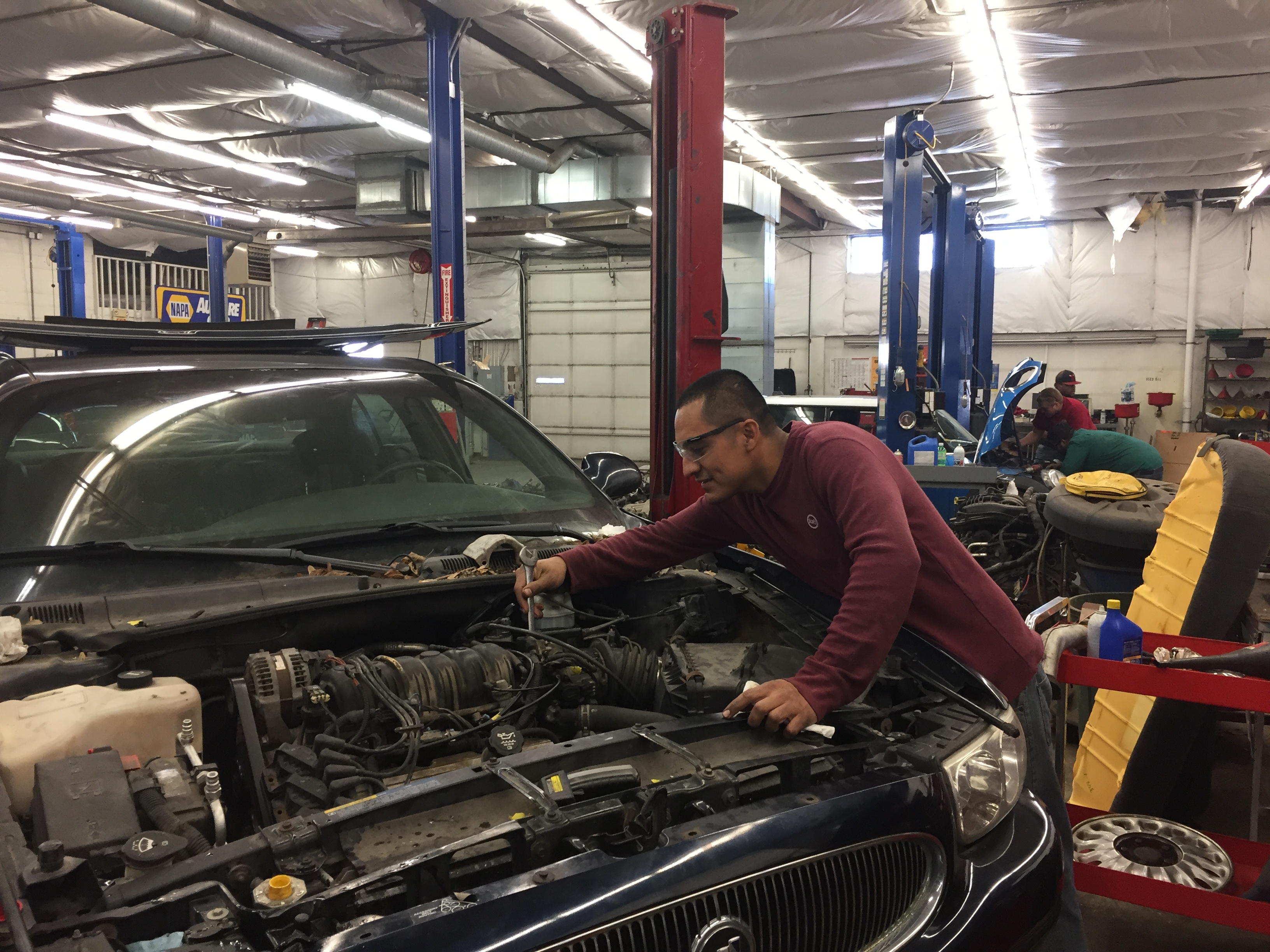 Read More
---
Student Spotlight: Meet Shawna!
---
Shawna is one of the awesome new students in our Auto Mechanics program at Newgate. She grew up in a family that races cars so was around engines her whole life. Her initial career choice took her into health care where she spent 10 years nursing, but she always maintained her interest in cars and worked part-time at a local auto parts store. She eventually realized she was burned out on nursing and started thinking about what other careers she could get into for the future.
Then her car broke down and she was told the new radiator she needed would cost $600! Instead, Shawna went and bought the parts it needed for $100 and installed it herself. That got her thinking she could work on engines for a living. It was fun and with the right schooling she could make some good money. That's when she learned about Newgate from a colleague at work.
At first she didn't really believe it. What school would train her in auto mechanics for free? But she came in and talked with Dennis, Newgate's transportation manager, and Mike, who runs the Auto Mechanics program. It was a great fit and she started the program once an opening became available. She's a couple of months in now, and loves the training she's received so far. She gets her own vehicles to work on, and there's always someone available to help out with a problem if she needs it.
Once she graduates, she plans to continue working at her current auto parts company as a service writer. She'll make a great living using her training to evaluate and diagnose vehicle problems, and looks forward to enjoying her work everyday. She's a great example of what Newgate School is all about and we look forward to following up on Shawna's story in the future!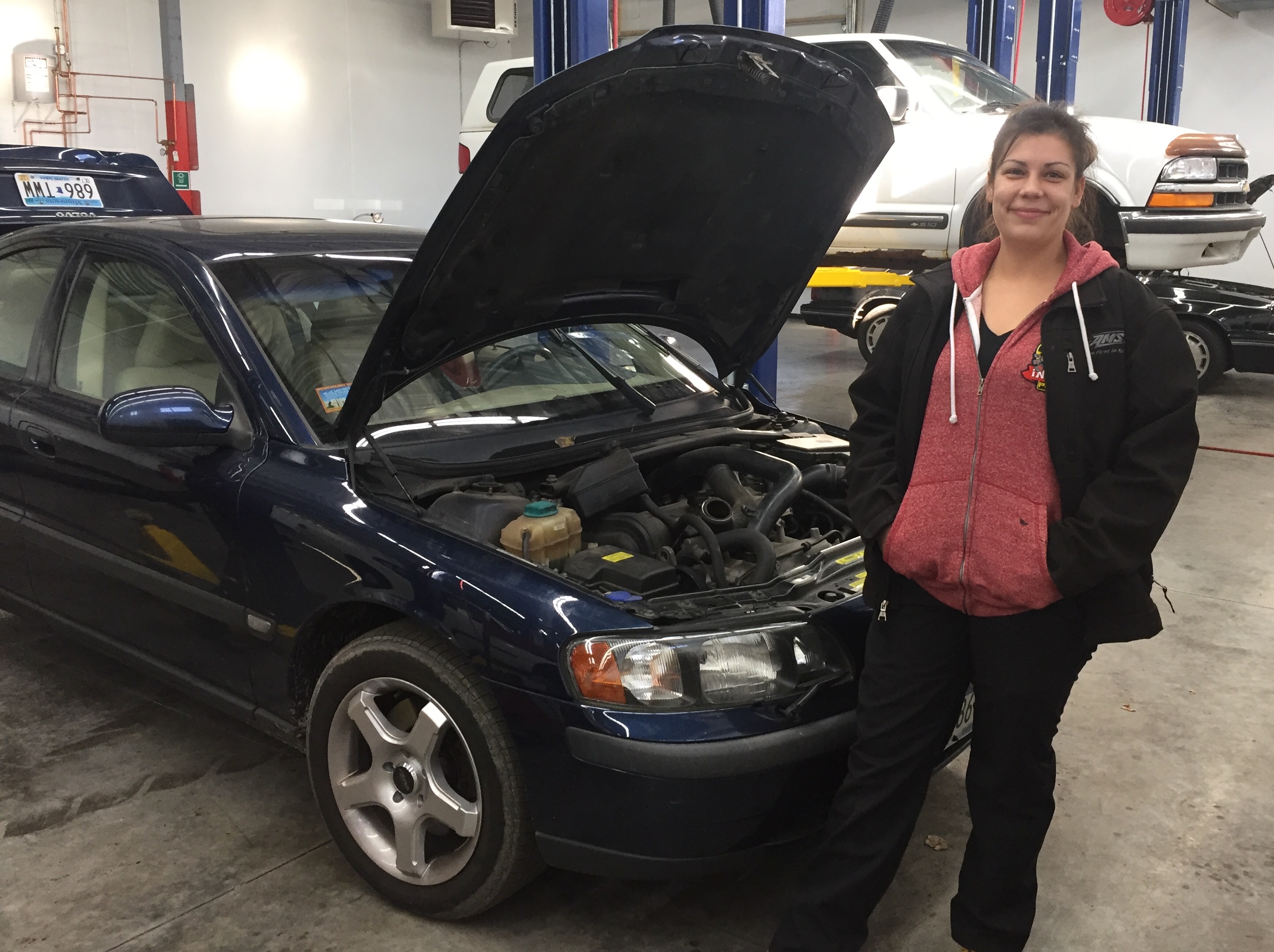 Read More
---
Your Donations At Work
---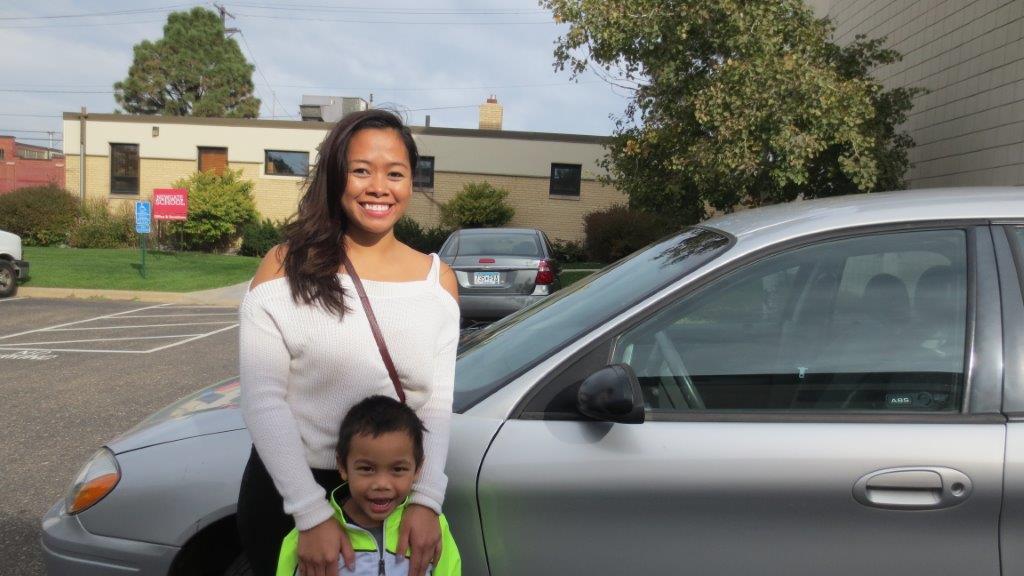 Meet Vicki, the most recent recipient of a vehicle from Newgate's Wheels For Women program. Vicki is a full-time working mom of 2 who recently separated from her children's father. "It was difficult starting on the road to self sufficiency after being in a completely dependent relationship. There was so much I needed to learn. I was left high and dry without a vehicle or funds to support myself and my children."
"I started a full time job, but had to find ways to get to work each day. Not knowing whether I would find transportation to get to work or to bring my children to the sitter was one of the hardest parts about not having a vehicle. Doctor's appointments, and trips to the grocery store needed to be planned accordingly. It meant walking to our destination, borrowing someone's vehicle or finding a ride from a family member. It was definitely a struggle."
Her sister was aware of their situation and told her about Newgate's Wheels For Women program. "I have never owned my own vehicle before. I am so grateful for the Wheels program at Newgate because I can now say I have a vehicle to call my own. I am able to take my children to the sitters, get to work each day, drop the kids at basketball practice, make doctor's appointments etc. It has changed our lives tremendously."
Newgate students who work to repair and refurbish these vehicles are really proud to be able to "pay it forward" as well. The program provides them with tuition free training and they are able to provide single working moms with reliable vehicles at no cost. As one of our students said "This is the best part about the entire Newgate program." Vicki defintely agrees! She said "When picking up the car, I was filled with joy and disbelief. I could not believe that I was being handed a vehicle to call my own. Words cannot express how grateful I am. I appreciate you all at Newgate for helping me and my family out with a vehicle. It has been life changing."
Read More
---