Auto Mechanics Training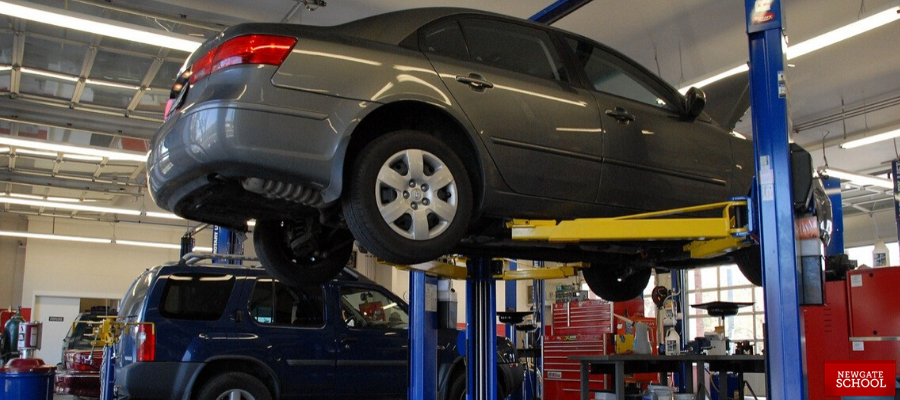 Turn Your Tinkering into a Satisfying, Stable Career
Do you like to take apart things like computers, appliances, and cars, just to see how they work? Are you the person that your family and friends bring their broken devices to because you can usually figure out how to fix them? If you're in Minneapolis, MN, maybe it's time to consider enrolling in the Auto Mechanics Training program at Newgate School.
Tuition-Free Training
We understand a four-year degree is not for everyone. College is expensive, and if you also have to work, a degree can take a lot longer than four years. Vocational schools often take less time than college, but they, too, can be expensive. Newgate School's Auto Mechanics Training program will prepare you for a well-paying, secure career in the auto industry. And if you qualify, you won't pay one penny in tuition or fees. Newgate training gives you a way to lift yourself and your family out of the cycle of dead-end and low-wage work.
A Year of Education Opens up a Lifetime of Opportunity
It takes about a year to complete the training program. When you graduate, you'll be prepared to move on to a paid apprenticeship program as you begin your career in automotive mechanics. Graduates of Auto Mechanics Training have a wide array of career opportunities to look forward to, including:
Auto service centers
Auto dealerships
Gas stations
Specialized repair shops (e.g., Midas Muffler, Mr. Clutch, Transmission Shop)
Auto oil & Lube Services
Tire shops
Auto parts and supplies
These are all well-paying jobs that you can find in and around Minneapolis, MN. How stable is a career in automotive services? Newgate instructor Mike Scott puts it this way: "With over four million cars in Minnesota alone, there's sure to be a mechanic's job for you!"
What You Will Learn
Your training will involve working hands-on with many of the vehicles that are donated to Newgate School. You'll gain real-world experience handling a variety of vehicles from compact cars to SUVs, vans, and trucks, and will be qualified to work as a general service technician. As you work through the Auto Mechanics Training program, you will:
Understand automobile construction
Know how to use hand and electric tools
Be introduced to computerized diagnostics
Learn mechanical diagnostic techniques
Gain a comprehensive knowledge of critical systems, including steering, suspension, tires, gas, fuel, and electronics
Learn regular vehicle maintenance (changing belts, hoses, spark plugs, oil, and fluids)
Know how to complete emissions tuning
Understnad brake systems, head gaskets, water pumps, and engine repair
Understnad and follow automotive service shop procedures and safety and environmental practices
As you go through training, you will develop essential problem-solving skills and greater confidence as you see the results of your hard work. Even if these skills aren't officially a part of the curriculum, they will help you succeed in all areas of your life.
Let's Set You Up for Success
Our instructor, Mike Scott, says it best: "If you like figuring out how mechanical things work and enjoy a challenge, you will have a good career in auto mechanics."
Newgate School helps young adults from disadvantaged communities in and around Minneapolis, MN build knowledge and skills for lifelong success. Because our students graduate from our Auto Mechanics Training program with a high level of skill, knowledge, and confidence, we are able to place many of them in jobs and paid apprenticeship programs in the area. Applying to the program is easy, and our instructors are happy to answer any questions you have about the training program. Contact us today and set up a time to visit.
Ready to apply to Newgate's auto mechanic training program? Apply here!