Auto Body Training

Have You Considered a Career in Auto Body Repair?
Do you enjoy spending time detailing your car and getting compliments on how great it looks? Have you thought about turning your love of cars into a career? The Auto Body Training program at Newgate School. Learn more about our program in Minneapolis, MN, and then contact us to apply.
Tuition-Free Vocational Training
Newgate School trains adults from low-income homes for a stable, well-paying career in the automotive industry. In addition to auto body care and repair, you will also develop valuable life skills, confidence, and stability that help you succeed in any job. Through your training, you will gain hands-on experience in auto repair, while giving back to the community through programs such as Wheels for Women. We can offer this vocational training free of charge through vehicle donations. That's right: if you are accepted into the program, you won't pay any tuition or fees.
Prepare for a Stable Career in 18 Months
Unlike going to a university or college, vocational training is suited for people who want career-focused training. Our auto body training program is designed so that you are ready to work upon graduation. Training is self-paced, so you aren't rushed through any section of the curriculum before you master it. We also have a small teacher-to-student ratio (one teacher for six students), so you get individual attention. The low ratio also allows our instructors to provide additional help to our non-native English-speaking students without impacting their classmates. You can expect to complete the Auto Body Training program at our Minneapolis, MN facility in around 18 months.
A Complete, Bumper-to-Bumper Curriculum
To prepare you for a career in the automotive industry, you'll need a large toolbox of skills and knowledge. During your Auto Body Training, you will have hands-on experience covering safety and environmental procedures and the following areas: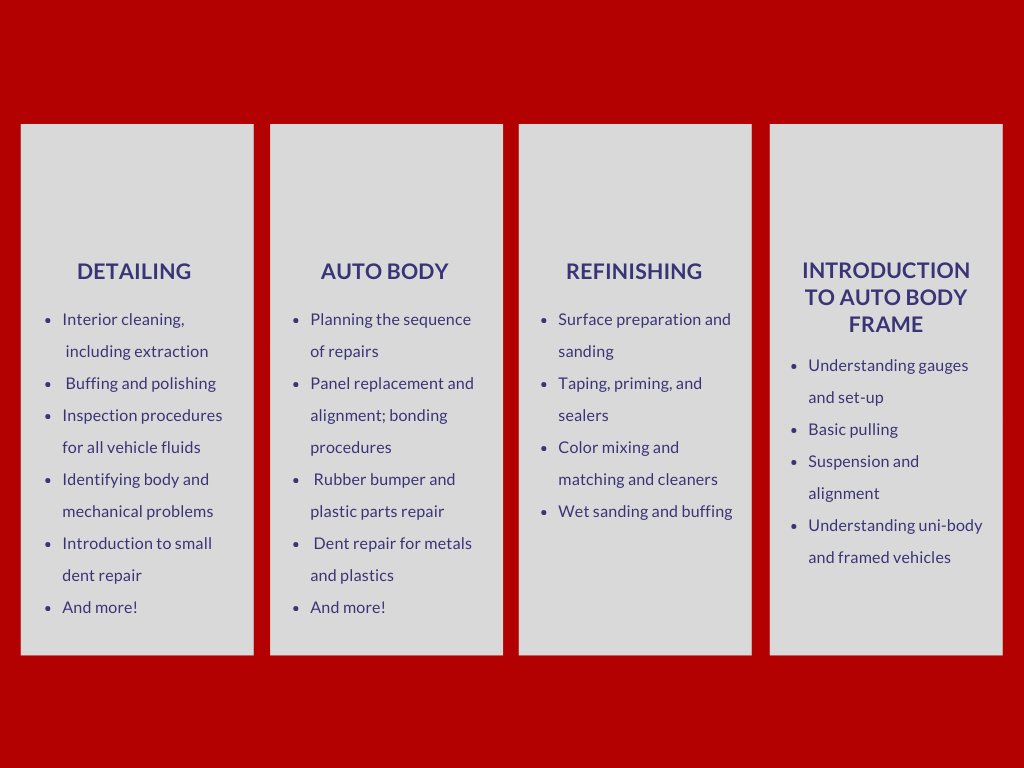 Great Career Opportunities are Waiting for You
Let's face it: with the amount of snow we get in Minneapolis, MN, and MDOT salting roads to melt snow and ice, there is plenty of detail and repair work to be found here. When you complete your Auto Body Training course, you will be prepared to work in:
• Collision repair centers
• Customizing shops
• Restoration services
• Hot rod shops
• Accessory shops
Have you've dreamed of one day owning your own auto body repair or detailing business? In the Auto Body Training program, you'll develop the work ethic as well as the experience and confidence you need to follow through on your dream.
Learn from People in the Industry
Newgate School instructors bring decades of experience to our Minneapolis, MN training shop, and provide real-world knowledge of cutting-edge technology and shop practices. When you dedicate 18 months to Auto Body Training, you'll learn from the area's best auto body technicians. Our instructors are dedicated to helping you succeed in a long-term, satisfying career. If you're ready to make a big change in your life, contact us now to apply and set up a school visit.
Ready to apply to Newgate's Auto Body Program? Apply here!