Our Students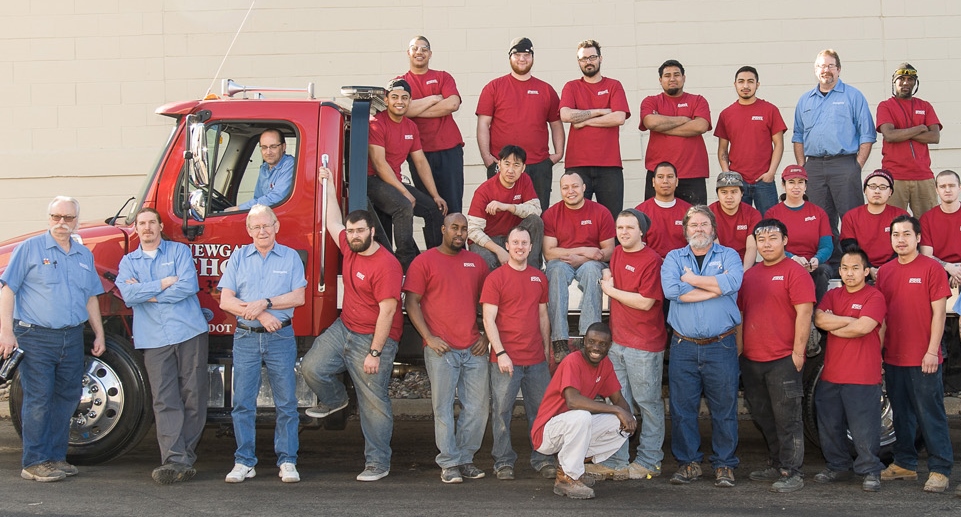 NEWGATE SCHOOL STUDENTS AND INSTRUCTORS - SUMMER OF 2015
Pictured L to R, Top row: Pedro Vazquez, Raymond Lembrick, Leonard Ridgway, Chris Miller, Jonathan Garcia, Jesus Jordan, Mike Scott, Jama Yusuf Middle row: Mark Mitson in cab, Yeng Yang, Shannon Byrd, Marco Valencia, Lor Yang, Sara Levinger, Tou Thao, Chris Eichens Bottom row: Gary Sworta, Tom Bishop, Dennis Dunn, Matt Ludwig, Abdiladif Mohamed, Bryan Christenson, Martin Kpadeh, Beau Moser, Don Rehn, John Chang, Kou Xiong, Kou Her
Our students are taking advantage of the second chance Newgate offers
Newgate School students learn best by doing. They thrive because we teach auto repair skills in a hands-on setting. It's especially true for those students who haven't reached their full potential in a tradtional school setting. Once they're enrolled at Newgate, things change for the better.
Some of our students left high school before graduation and now wish to learn technical skills to move into career employment.
Others are Asian, Hispanic, East African or other immigrants, or sons and daughters of immigrants. Some struggle with English but are able to learn with Newgate's hands-on training.
Still others are referred by social or educational agencies. These students can learn technical skills best in an apprentice style setting with a low student-teacher ratio.
Despite their varied backgrounds, Newgate's students work together toward the common goal of training for their futures. They are on the path toward careers in automotive work they like with good pay and expanding job opportunities. After approximately 18 months of training, they'll leave Newgate equipped to become full-time employees in the auto industry, taxpayers and responsible citizens of the Twin Cities.